User's Guide
How do you use NoLPOVCon? Its very simple. The first step is, of course, to download, install, and run NoLPOVCon. You'll see the NoLPOVCon interface, and though it might look like a lot, its really very simple. Let's look at it.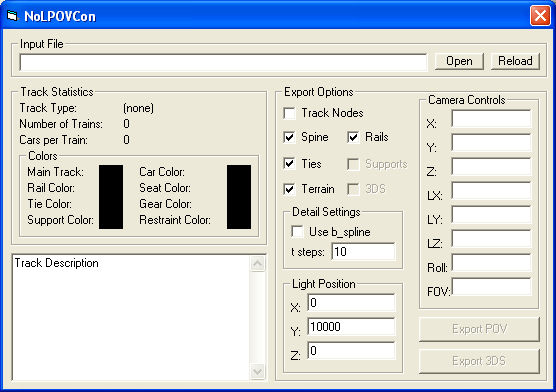 First, open a No Limits track by clicking the Open button in the top right, or you can type in the path and filename of the coaster in the text box and hit "Reload". Once the track has loaded, on the left you'll see the track's stats, including colors, track type, number of trains, number of cars per train, and the track description.
Now, look at the right side of the winodw. You need to specify what it is you'd like to put into the POV-Ray scene. By default, everything that would normally appear in the track is selected (Note that Supports and 3DS has not been implemented yet). You can check or uncheck the text boxes to enable and disable each part. If you'd like, you can include the track nodes, which will create spheres and cylinders to draw the vertex bezier handles. Note that generating the track ties may take a long time on long tracks
On the right, you'll see controls for where to place the camera. X, Y, and Z specify the coordinates of the camera, and LX, LY, and LZ specify where the camera will be pointing. By entering a value for Roll, you can bank the camera.
In the middle of the window, you'll see Detail Settings. These two settings can determine whether your track will render in under 5 minutes or 5 hours. The first settings is Use b_spline. By checking this value, the spine and rails will be drawn by POV-Ray without any kinks or bends. While this can make your track look much better, it also makes it take a MUCH longer time, usually about 50 times longer. I'd only recommend using this option for a final render. Changing the t steps value changes how many samples NoLPOVCon will make along each segment for making the spine and rails. A higher t steps creates smoother, more accurate track, but also makes it take longer to render. Note that the number of t steps will be constant for each segment, so a coaster with higher vertex density will need fewer t steps than one with low density. Enabling Use b_spline will also allow you to get away with using a fewer number of t steps.
Finally, set the light position. Using the default <10000, 10000, 10000> works well for creating a light similar to the sun being in a late day or early morning position.
Once all of these options have been set, click on the Export POV button. You will be asked where to save the file. After selecting where to save it, NoLPOVCon will go to work, and will tell you when you're done.
Now, open the file in POV-Ray, and render it! Voila! Here's a sample for you: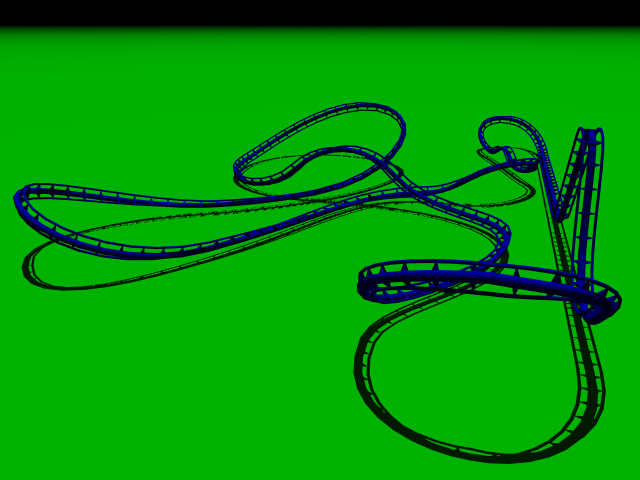 This is Decade Force, a coaster I made. It is a mini version of
FAQ
What is NoLPOVCon?
NoLPOVCon is a program for converting No Limits tracks into POV-Ray scenes.
What is POV-Ray?
POV-Ray is a free open-source ray tracer. Scenes are described in plain text rather than binary, and can contain objects that aren't meshes, unlike other 3D renderers. In POV-Ray, you can generate a perfect sphere, a perfect cylinder, or in the case of NoLPOVCon, a perfect track with no bends. The track is a constant cylinder, not an approximation.
Is No Limits required?
Not at all! NoLPOVCon can be used without No Limits. No files from No Limits are used in the generation of scenes. Though in a future version, I may include the option to use the textures from your No Limits folder, including environments. I will not, however, release these textures as part of the NoLPOVCon package.
---